This is the time of year  for slow roast meats and casseroles incorporating freshly picked bay, sage and the last of the thyme, meltingly soft onions and garlic gently stewing in olive oil, plentiful mounds of deep greens such as kale or chard briefly sautéed on a high heat with a little thinly sliced garlic and served simply with a sprinkling of coarse sea salt.
For food to truly be comforting it needs to feed the soul as well as the body,  it should nourish and nurture ensuring one is left with a sense of well being.  Forget packets of biscuits, plates of chips, slices of pizza or whatever it is that you reach for when you're in need of solace. Real comfort food is wholesome, nutrient rich and freshly prepared, food that offers  sustenance to body and mind  and leaves you feeling satisfied, soothed and restored.  And, as the year draws to a close the comforting aromas of winter slowly seep back into our thoughts bringing solace and, in my case, fill me with an urge to get into the kitchen and cook up some earthly delights.
Comfort food, as well as the
 year end festivities that we are now beginning to think of,  have no place for moderation, so enjoy them fully, but ensure your excesses are of the finest quality and that those for whom your food is intended are held in heart and mind. It's a time which lends itself to the best ingredients cooked in the best winter ways which leave us feeling replete, nourished and well satisfied but not overly stuffed.  Comforting and nurturing  food doesn't need to be complicated or at all fancy, just honest, wholesome and, most importantly, enjoyable.
This is the time of year  for slow roast meats and casseroles incorporating freshly picked bay, sage and the last of the thyme, meltingly soft onions and garlic gently stewing in olive oil, plentiful mounds of deep greens such as kale or chard briefly sautéed on a high heat with a little thinly sliced garlic and served simply with a sprinkling of coarse sea salt (and maybe a touch of dried chilli).
​
And last but by no means least there is the wonderful array of pungent, creamy and tangy cheeses available at any proper cheesemonger.
What a feast!  Just writing this is making me want to lock myself in the kitchen for days.
This isn't often said in food articles but the truth is that homemade dishes can be time consuming and are often more expensive than their shop bought equivalents, but never let that stop you. There's no substitute for the time, effort and love that you imbue the food you have made with which no machine or production line can ever begin to replicate. It will always taste better and be more deeply satisfying.
So enjoy the process, surrender yourself to the kitchen and indulge in the results. Allow clouds of warmly spiced scents to pervade your house.
maybe this is all sounding a tad too idyllic but for me there are few things more enjoyable than cooking up winter feasts for your loved ones. Obviously other things will have to give way, chores may not get done, children and partners may be forgotten but everyone will be so wowed by the generosity of your table that they'll fail to notice. Just spray the cobwebs silver!
Having said all of this,  simple is almost always best and the recipes I've included here fit that bill and some will 
also make delicious gifts - for those in special need of care and support as well as when thinking about seasonal presents.  They can be packaged with imagination and love and most people enjoy nothing more than an edible present. My now grown up children still talk about the time when the postman leaped in through the front  door and kissed my cheek to thank me for the cake we'd baked for him!
I prefer to shop organically but don't feel the need to be slavish to this.  Choose ingredients, especially the fresh ones, which look to be the best and tastiest. In my ideal world I'd pluck them all straight from the garden but then again my world is often far from ideal! And soup making can actually be a great way of clearing out various shrivelled items from the back of your fridge's vegetable drawer. Using everything and minimising waste is also something worth aiming for.
The following dishes definitely achieve comfort food status and are entirely appropriate for this time of year; they are straight forward to prepare and great for Autumn or Winter, and great for the festivities that await us.
Note:  Always read through an unfamiliar recipe well before you plan to make it to ensure you've got all of the necessary ingredients and equipment to hand.
Apple and Blackberry Crumble
Fat:
 Try not to be too alarmed by the mention of this often maligned ingredient because healthy fats make our bodies sing very happy tunes and I'm a big fan of them. And just to prove it I'd highly recommend serving your crumble with another goodly dollop of fat it in the form of cream, yoghurt or crème fraiche.
Sweetness:
 The fruit brings most of what's necessary. I always try and keep additional sugar in a recipe to the minimum so you may need to increase the amount used in the topping if you are used to very sweet dishes. However I'd recommend that you try to get used to reducing the sugar content of your recipes; it's amazing how quickly your taste buds will adjust and in the long term your health will be better.

I prefer to avoid refined sugar and usually substitute it with either good quality honey or maple syrup (check on the ingredients list that your maple syrup is pure, some have added sugar or flavouring). You can also use brown rice or date syrups here.

Special dietary requirements:  These are quite easily accommodated in this recipe. It's easy to make a gluten free, nut free, dairy free or vegan crumble by following the ingredient suggestions.
Returning to the breakfast angle I've got a pre- set timer on my oven so I just pop the raw thing in the oven the night before and then we all wake up to the delicious smell of cooking crumble. If you don't have one of these don't despair, have it all ready to go the night before and then as soon as you get up turn on the oven and it should be ready by the time everyone has shaken themselves out of bed and into some clothes.

If you still simply can't countenance the idea of pudding for breakfast fair enough, just go ahead and eat it for pudding.
Serves 8   
    Freezes well once cooked
600g cooking apples (approx 3 large)
200g blackberries, fresh or frozen
1 cinnamon stick or 2 teaspoons ground cinnamon
200g oats, I prefer jumbo to porridge in this recipe but it doesn't really matter
(use gluten free oats if avoiding gluten)
30g pumpkin or hulled hemp seeds (hulled hemp seeds are often called hemp hearts)
100g butter, ghee or coconut oil
You'll need a large oven-proof & fairly deep dish.
Wash the apples but don't peel them, the skins are nutritious. Core and thickly slice into your ovenproof dish. Add in the blackberries and cinnamon and give them a quick stir through. Pour over about 2 tablespoons of water.
Gently melt the butter, ghee or coconut oil with the maple syrup/ honey.
Place the remaining ingredients in a bowl and pour the melted liquid over. Stir everything together and sprinkle over the top of the apple mix.
Place in a cold oven and turn it to gas 4, 180c, 350f (there's no need to pre heat the oven for this dish)
Cook for 25-35 minutes until the apples are soft and the juices bubbling.
If your oven was already warm then reduce the cooking time by about 10 minutes.
Serve hot or cold with yoghurt, crème fraiche or double cream.
equally delicious if you replace the blackberries with damsons or use any berries/dried fruits with the apples
use pears or plums instead of apples
use  ground ginger or mixed spice in place of the cinnamon
add any seeds or nuts to the topping for variety and interest or remove them altogether for those with allergies/sensitivities to these.
Any leftovers (not sure how that would come about but just in case) can be eaten cold, gently reheated in a warm oven or fried in a little ghee/butter/coconut oil.
200g leek, fairly thinly sliced and then washed
200g carrot, chopped into slices or cubes
2 celery sticks, thinly sliced
800ml stock (chicken or vegetable) or water
A few good grinds of black pepper
A little yoghurt, crème fraiche or ghee to serve
Rinse the lentils in the saucepan you'll be making the soup in, drain off as much rinsing water as it's easy to do.
Add the leek, carrot, celery, tomatoes, bay leaf, stock/water and salt & pepper.
Bring it all to the boil and turn to lowest heat and simmer gently (with the lid on) for 20-30 minutes until the lentils are soft and the vegetables cooked through.
Stir from time to time and add more stock/water if it gets too thick.
Taste for seasoning and add more salt and pepper if necessary.
If you wish to, now is the time to stick blend in the pan – as I mentioned blending is quite a good way of disguising the ingredients for vegetable-shy eaters.
Serve in bowls with a dollop of ghee or crème fraiche.
Store leftovers in the fridge and eat within a few days.
You can use just carrots or leeks, no need to stick exactly to the vegetables listed in the recipe.
I often sprinkle seaweed on top to increase the nutritional value and it adds another savoury note.
120g best quality dark chocolate (70% cocoa solids), broken into pieces
30g pecan nuts, broken into rough halves
50g dried figs, chopped into bite sized pieces with scissors
25g dried cranberries, I use the ones sweetened with apple juice rather than sugar
1 knobble stem ginger in syrup, drained and cut into very small pieces
Edible gold stars, dried rose petals, more stem ginger, chopped nuts etc to decorate
Prepare all of your ingredients and ready a sheet of baking parchment.
Place the chocolate in a heat proof bowl. Bring a pan of water to the boil (making sure your bowl will sit on the pan's rim). Once boiling turn the heat down to it's lowest simmer, place the bowl of chocolate atop
and very gently melt- see above.
Once fully melted remove the bowl from the pan and stir all of the other ingredients into the chocolate.
Carefully place blobs of the chocolate mix onto the parchment paper, about ½ a dessertspoon for each. You should have 12-14 blobs.
Whilst they are still warm sprinkle with your chosen decoration.
Leave to cool and fully set. Do not use a 'fridge for this as it may cause the chocolate to go cloudy.
When fully set package them as you wish or store in an airtight container in a cool place, they will keep for 2 weeks or more.
Use any dried fruit and nuts that you wish.
You can add 1-2 drops of peppermint oil to the chocolate once it has melted to flavour accordingly.
Add 1 scant teaspoon finely ground coffee, ground ginger, cinnamon or cardamom along with the nuts and dried fruit.
​

80g best quality dark chocolate, 70% cocoa solids
Gently melt the chocolate in a heat proof bowl over a pan of barely simmering water. Remove the bowl from the pan.
Ready a sheet of baking parchment.
Drop the brazils a few at a time into the bowl of chocolate. Using a fork pick them out again allowing any surplus chocolate to run back into the bowl. Place the chocolate coated nut onto the parchment paper to set. Repeat, working as quickly as you can, until all of the chocolate is used up.
Once fully set the brazils can be transferred to an airtight container where they will keep in a cool dry place for 2-3 weeks. Note; do not refrigerate as this may cause the chocolate to go cloudy.
Package up in plenty of finery.
If you want your brazils to be especially lusciously covered in chocolate once the first layer of chocolate has properly set melt the same amount of chocolate again and re dip as before.
This is a type of coarse textured pate and great served with a hunk of good sourdough or some crackers, some mixed salad leaves and pickled vegetables.
Rillettes are traditionally made from fatty meats such as pork, duck or goose. In this recipe the pork needs cooking for 3 hours but it needs minimal attention whilst doing so.
Presented in nice glass jars this makes for a sophisticated savoury gift.
It will keep well in the fridge for 2-3 weeks.
1.5kg pork belly, boned and without skin
5 large cloves of garlic, peeled
300ml dry white wine or water
2-4 tablespoons ghee, pork or goose fat to seal off the jars
Place the pork belly in a roasting tin and rub with about 1.5 tablespoons of coarse sea salt, add the juniper, peppercorns, whole garlic cloves, thyme and bay leaves. Pour the wine or water into the bottom of the tin. Cover with foil and place in the oven heated to 160c/gas 1/300f. Cook for 3-4 hours until the pork is tender and falling apart. Add a little more liquid if it seems to be drying out.
Remove from the oven and place the meat in a bowl leaving all of the herbs and spices behind. Pull it into shreds with a pair of forks and pack into the sterilised jars. Pour any cooking juices into the jars through a fine sieve. Cover and chill for 30 minutes. Once cold pour over the lightly melted fat and leave again to set. Chill until ready to serve.

Drinks  tend to be best enjoyed at room temperature (in front of the log burner) heavy red wines, Madeira and brandy.  All of which are also great for cooking with.  Warm spices such as nutmeg, cloves and cinnamon abound  along with the deeper tones of chocolate, cardamom and coffee and not forgetting the uplifting zing of ginger. There is the warmth of honey, maple syrup and dried figs, apricots and prunes.   
We can justify jugs of vanilla scented custard, heavy bowls of cream and tart crème fraiche.​​
​
This isn't often said in food articles but the truth is that homemade dishes can be time consuming and are often more expensive than their shop bought equivalents, but never let that stop you. There's no substitute for the time, effort and love that you imbue the food you have made with. ​

​
​​​​​​​​​​
I love puddings and as far as I can tell I'm not alone, but have you ever thought of having one for breakfast?

This crumble recipe is one of my favourite Autumn/Winter breakfast dishes and there's absolutely no need to feel guilty about it as it's really nutritious and sustaining – exactly what's required from a breakfast.


It's sustaining because the topping is packed full of energy giving nuts, seeds & oats all mixed together with lovely, fatty butter.


The oats are great for slow release energy – keeping you feeling fuller and energised for longer.


The nuts and seeds are high in protein and fat.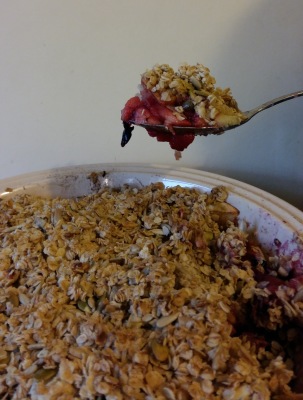 Soups are warming, nourishing and comforting whilst being easy to prepare, store and reheat. This recipe freezes well so you could make a double batch and freeze half for a few weeks time.
Lentils are high in protein, iron, fibre and magnesium and along with all the vegetables packed into this recipe they result is a highly nutritious meal. Serve the cooked soup as is or blend it with a stick blender and the children/family fusspots won't have a clue what's in it and will happily slurp away.
I suggest using stock rather than water for this recipe as it boosts the nutritional content. Ideally use homemade stock made from either vegetables or an organic chicken carcass (if you're looking up a recipe for this it's often called chicken or bone broth nowadays). I keep both meat and vegetable stocks in the freezer for such occasions. A variety of stocks are also readily available in shops as are stock cubes but these will offer less flavour and nutritional value. As stated in the recipe water will also do the trick.
This recipe also doubles up as a tasty pasta sauce or is great with a baked jacket or sweet potato.​​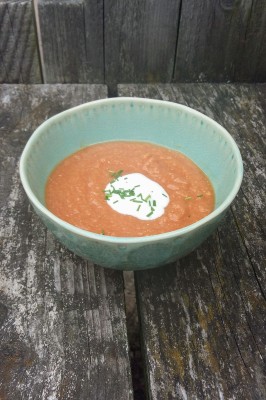 These are straight forward to make and keep well (if you can resist eating them that is).  The recipe can be easily doubled if you want to make enough for a number of gifts, they also make a great after dinner chocolate and go well with coffee.
I always use a really good quality dark chocolate when making things like this. The better quality chocolate bars tend to melt better and be easier to work with as well as tasting far superior.
Always take care when melting chocolate to ensure that the bowl it is in is not actually in contact with the water it is melting over, and that the water is simmering very gently. You are aiming for a slow, even melt. Too much heat can cause the chocolate to 'seize' making it thick, grainy and very difficult to work with.
Have all of your other ingredients ready before melting the chocolate so that you are ready for the next step when it is melted. This way you won't have to re heat/melt your chocolate again which could lead to it losing its gloss.
Baking parchment is preferable here to greaseproof paper as it has a lightly waxed finish making it easier to lift the finished product. But greaseproof will do.
Use your imagination when packaging any festive gift. It helps to think ahead with this to ensure you have cellophane/ribbon/edible gold stars etc to hand when the time comes. I'm quite a fan of the wires of gold stars that you can buy, a length of it can be used to tie up a cellophane parcel or even to top a cake before packaging it.​​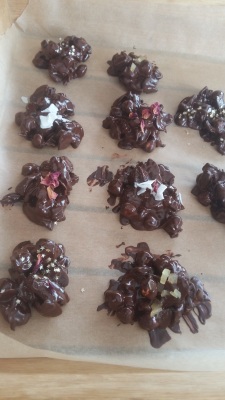 ​​​
These are so straight forward to make why would you buy them? And this way you have the added bonus of knowing that they are covered in a properly thick layer of really good quality chocolate.
See notes in the Chocolate Clusters recipe before melting the chocolate if you are not used to doing this.
​